From the desk of Chancellor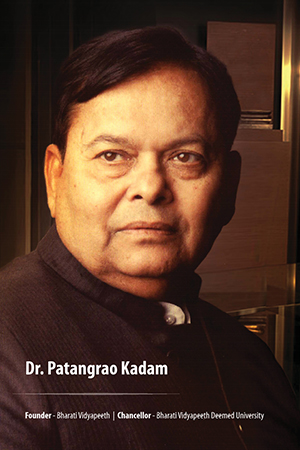 The Programs of the Bharati Vidyapeeth (Deemed to be University), Pune are conceived and executed under properly organized schedule and professional culture. The authorities of Bharati Vidyapeeth (Deemed to be University), Pune have created their own systems of monitoring the programs in most effective manner.Institute of Management is a workshop where today's youths are shaped up as effective managers of tomorrow. Apart from the study of their regular syllabi, the students should get fair and proper opportunities to express their views and ideas, especially in the field of Management, which plays a vital role in the modern era.
The youth should be molded and equipped with courage, self-determination, and dedication and must be in a position to overcome any sort of difficulty with introspection.Keeping this in mind, we should start brainstorming process of management students, because today's youth's are building blocks of tomorrow's Society. I am sure, "hard work brings surprising results" and we are second to none in this sphere.
In pursuance of the main objective, Bharati Vidyapeeth has started several institutions operating right from pre-primary to post graduation research level.
Foremost among these is the Bharati Vidyapeeth (Deemed to be University), Pune, which has already etched its name in letters of gold in the annals of India's Education System. IMED, being a constituent institute of higher education in management and computer applications within BVDU has been leading from the front and leading by example. In terms of quality of teaching, research, infrastructural support and co-curricular activities, the expanse of available learning is indeed large. It is for you, the students of this august body, to take full advantage of what is being offered in the process. I am sure you can plot your own career graph that will be growing exponentially. I am sure you will not stop short of taking full advantage of all that which has been placed at your disposal so that you emerge as value-centered leaders of the future.
Finally
"Success is ours"
Dr. Patangrao Kadam
Founder, Bharati Vidyapeeth
Founder and Chancellor, Bharati Vidyapeeth (Deemed to be University), Pune